00:32:57 29-03-2023
Gold price is moving in on key resistance.
Federal Reserve prospects are weighing on sentiment.
Gold price was higher on Tuesday following two sessions of declines with support from a weaker US Dollar even as bond yields climbed. Wall Street's major indexes lost ground as investors grew concerned again that the Federal Reserve would keep interest rates higher for longer as fears of further banking sector failures faded. At the time of writing, the Gold price is trading at $1,973 and has traveled between a low of $1,949 and $1,975.
The US Dollar was losing ground vs. a number of currencies for a second straight day as easing worries about the banking system revived investors' appetite for riskier currencies. There have been no new signs of bank failures over the weekend which is supporting risk appetite and weighing on the US Dollar. Risk appetite improved due to First Citizens BancShares' agreement to buy all of the failed lender Silicon Valley Bank's deposits and loans. US regulators said on Monday they would backstop a deal for regional lender First Citizens BancShares to acquire failed Silicon Valley Bank, triggering an estimated $20 billion hit to a government-run insurance fund. First Citizens shares jumped more than 53% during Monday trading on Wall Street.
US lawmakers quizzed top US bank regulators on Tuesday during testimony in Washington D.C. Michael Barr, the Federal Reserve's top bank regulator told a Senate panel that Silicon Valley Bank did a "terrible" job of managing risk before its collapse as he fended off criticism from lawmakers who blamed bank watchdogs for missing warning signs.
All eyes back on the Federal Reserve
While the testimony suggested that the bank's problems may be isolated, investors' focus moved back to inflation risks and the implications of higher interest rates from the Fed. ´´The next FOMC meeting is May 2-3 and WIRP suggests around 55% odds of 25 bp hike then. After that, it's all about the cuts. Nearly two cuts by year-end are priced in. While down from 4-5 cuts priced in during the height of the banking crisis earlier this month, even two cuts seem very unlikely. In that regard, Jerome Powell said after the March 22 decision that Fed officials "just don't see" any rate cuts this year,´´ analysts at Brown Brothers said.
Meanwhile, US Treasuries benchmark 10-year yields moved higher on Tuesday but pared gains after the Treasury Department saw solid demand for an auction of five-year notes. The benchmark 10-year notes were higher by 3.6 basis points to 3.564%, from 3.528% late on Monday.
Gold technical analysis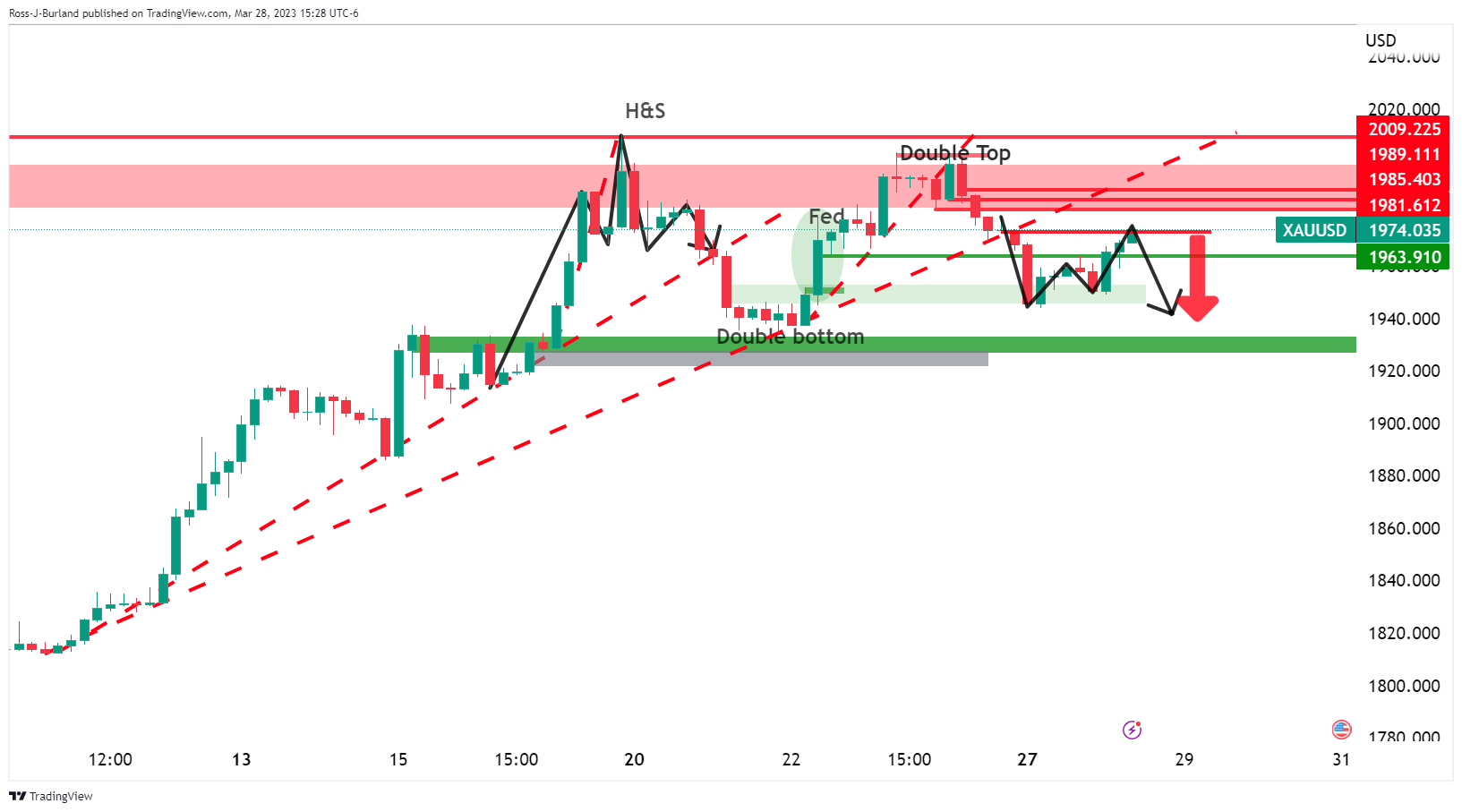 Gold price is testing the $1,980s resistance but the W-formation is a bearish pattern and this could see a pull on the Gold price. If the bears break the lows of the W, then the Gold price would be expected to head to the prior support near the $1,930s.