20:46:43 28-03-2023
WTI crude oil surges above $73.50 amid supply concerns and risk-on sentiment
After a Kurdistan/Baghdad arbitrage decision, supply risks halted 450K barrels of exports through Turkey.
A soft US Dollar underpins US crude oil benchmark prices.
WTI shows neutral to downward bias, but oscillators turned bullish, suggesting further upside.
Western Texas Intermediate (WTI), the US crude oil benchmark, climbs in the mid-North American session, spurred by crude oil supply issues. In addition, a risk-on impulse weakened safe-haven assets, like the greenback. At the time of writing, WTI exchanges hands at $73.55 a barrel.
WTI experienced a $3 jump after a halt of 450K barrel exports from Iraq Kurdistan region through Turke, spurred by an arbitration ruling that validated that Baghdad's approval was necessary to transport the oil.
Meanwhile, sentiment shifted after First Citizens BancShares acquired Silicon Valley Bank (SVB) deposits and loans. That propelled a recovery in global bank shares as a banking system crisis waned.
Therefore, safe-haven assets, like the US Dollar (USD), tumble across the board. The US Dollar Index (DXY) drops 0.38% to 102.449. A weaker greenback makes oil cheaper for international buyers and lifts WTI's price.
Russian President Vladimir Putin's announcement to deploy tactical nuclear weapons in Belarus to intimidate the West increased oil prices due to its support for Ukraine. NATO described Putin's comments as "dangerous and irresponsible."
At the same time, Russia's Deputy Prime minister Alexander Novak commented that Moscow is close to achieving its 500K crude output, to about 9.5 million bpd.
WTI Technical analysis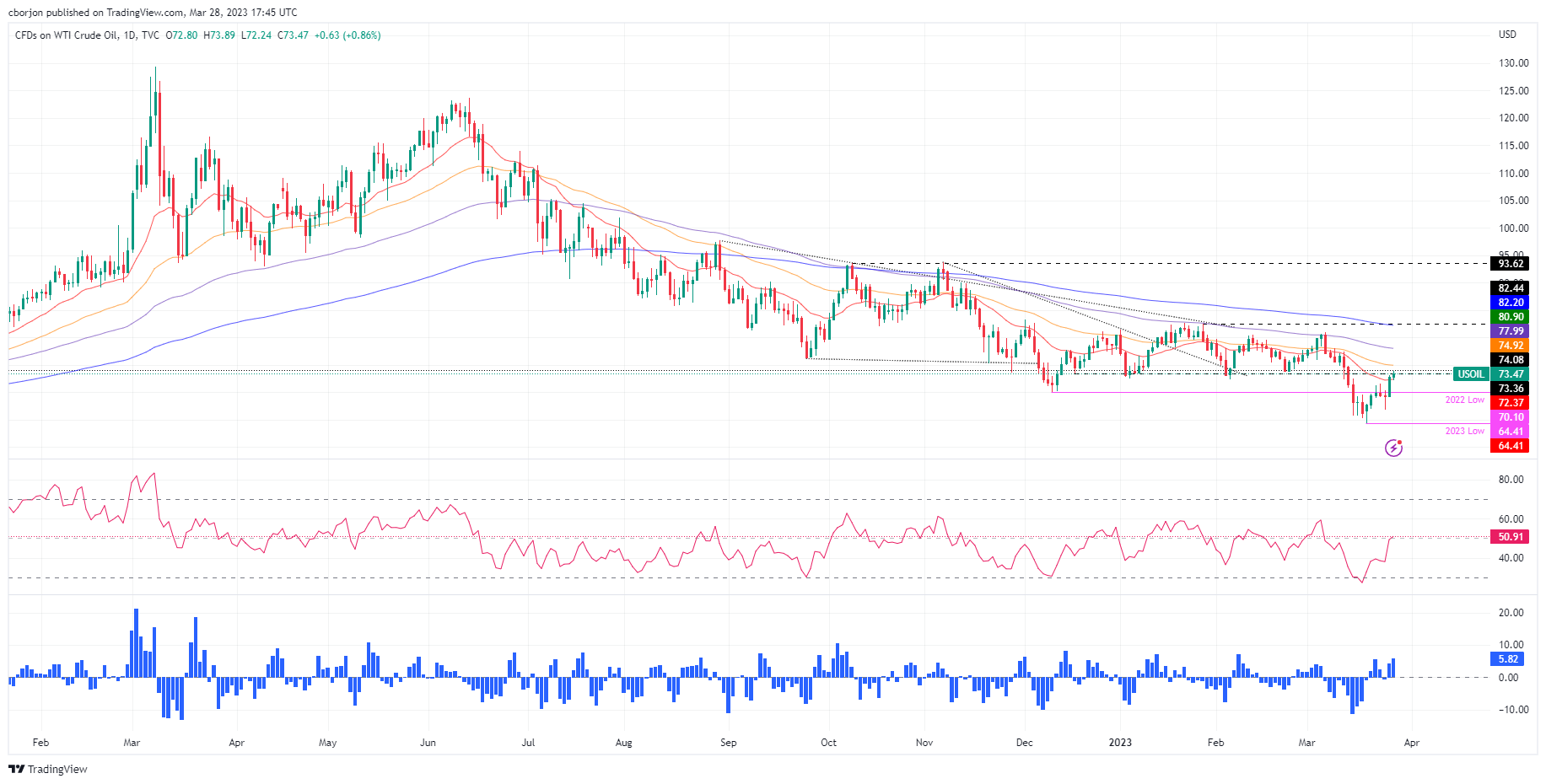 WTI is still neutral to downward biased, though it has cleared the 20-day EMA. Oscillators turned bullish, with the Relative Strength Index (RSI) above 50, which could pave the way for further upside. That said, WTI could rally to $80.00. Hence, WTI's first resistance would be the 50-day EMA at $74.93, followed by the 100-day EMA at $78.06, before testing the $80.00 mark.